The Best things to do in McLaren Vale and the Fleurieu Peninsula
Summer 2015/2016
A local guide of the best places to eat, drink, stay, relax and explore in McLaren Vale and the Fleurieu Peninsula.
To Perk Up
From Humble Grounds
Rebecca Moore is definitely 'humble', however her 'grounds' and coffee cannot be rivalled in the south. Her developed barista skills have been fine tuned on several coffee machines throughout the Fleurieu.
Rebecca now runs her own set up From Humble Grounds. She has a regular gig at the Willunga Farmers Market, pop-ups at wineries and various festivals and functions.
Drip filter, cold brews and collaborations with Fine and Dandy Teahouse also add to her humble credentials.
Short of stealing her for our 'in-house' coffee legend, we would recommend her to anyone.
To Read
Fleurieu Living Mag
What a read and great representation of all things McLaren Vale, Fleurieu and Kangaroo Island.
For a small (tiny even) band of merry men/women – Petra and Jason Porter, Leonie Porter-Nocella and Perscia Maung really do our region proud. With the ability to find the artists, musicians, entertainers and cuisine hidden ridges and gorges of our valley. FLM find 'our people' and 'our place' which are portrayed, photographed and illustrated creatively. If you haven't already subscribed, locals and visitors a-like will enjoy this quarterly publication.
To Relax
Adelaide Biplanes
Aldinga Airfield is the base for this hidden gem, the perfect place to relax with a coffee, malted thickshake or homemade cake from the Adelaide Biplanes Flight Office and Kitchen. Surrounded by vineyards, the rolling Willunga Hills and the stunning coastline of the McLaren Vale wine region, one can easily sit on the deck, and while away an entire afternoon watching Adelaide Biplanes' collection of stunning vintage aircraft take flight.
If you're up for more than relaxing there is a choice of classic, open cockpit biplanes for an awesome scenic flight, or if adrenalin is more your thing, then open cockpit aerobatics in The Great Lakes biplane is the best way to 'hang out' down south!
Adelaide Biplanes also offers flight training for those looking for a new challenge, or an excuse to visit the McLaren Vale wine region more often!
To Stay
The Beach House at Maslins
Whether your visit to the McLaren Vale region is for work or pleasure, The Beach House at Maslins provides clean, open-plan and comfortable self-contained accommodation situated in a quiet and central location, a stone's throw from the beach. Food and wine lovers, families, wedding guests and of course cycling enthusiasts (Tour Down Under is only a few minutes away) will find that The Beach House at Maslins caters for all their needs.
Situated just a few minutes' walk from the beautiful Maslin Beach, on the coastline of the famed Fleurieu Peninsula, The Beach House at Maslins is less than a 10 minute drive to the heart of the McLaren Vale food and wine region.
Being elevated, The Beach House at Maslins has sweeping views of the coastal waters and cliffs that may be enjoyed from inside, through floor-to-ceiling windows, or from the large entertaining deck while you cook on the BBQ or just relax in a deck chair. And if you feel the need to stroll along the white sands or cool off in the crystal waters, the beach is only 200m away.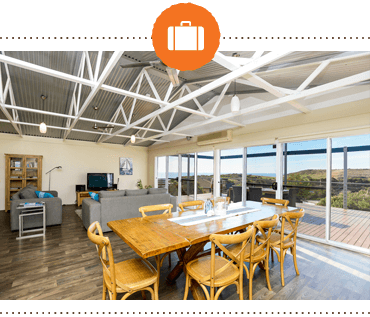 For more details take a look at: thebeachhouseatmaslins.com
Or call Sam Marchetti direct on 0411 147 297 to discuss renting the property or the soon to be
launched McLaren Vale holiday rental The Studio in the Vines (bookings from 1st Dec 2015)
To Drink
Goodieson Brewery
Jeff and Mary Goodieson bring to McLaren Vale the essence of 'craft beer'. After fleeing Sydney for a sea change and an opportunity for Jeff to follow his brewing dreams – Goodieson Brewery was formed.
"The Goodieson's have created a beer oasis in a wine desert – they are brewing outstanding beers in the Vale" – Mike, Trip Advisor
A couple of acres, a couple of kids and more than a couple of years of blood, sweat and tears they have become respected members of the community. With over five different brews to call their own, a seven days a week cellar door, online presence and a thriving stall at the Willunga Farmers Market – we can feel confident that they will keep us and visitors in supply of the 'good stuff'.
To Explore
Leafy Sea Dragon Tours with NB Scuba
If you have your PADI diving certificate or not, Nate is the man to go to. A highly experienced dive instructor, he'll get you up to speed with your open water or refresher licence, and book you in for a guided Leafy Sea Dragon tour off of the Rapid Bay jetty.
An increasingly rare sight, you'll experience the magical, mysterious and mesmerizing Leafy Sea Dragon in its own habitat. Along with these mystic creatures, you'll also catch a glimpse of other local marine life – ranging from Cuttlefish to Blue Ring Octopus. So take a dive with Nate and see the Leafies in all their glory!
Ask a Local
Brioni Oliver
Winery Manager @ Oliver's Taranga
Favourite hiding spot?
Fridays after Five – Aldinga markets including a stop in Miss Glady's on Sea.
Favourite place to eat?
The Fleurieu Pantry – Port Noarlunga for a juice and a healthy treat.